Instruction Information
Price includes lesson time, balls & video. Prices are subject to change.
All lessons will be paid in full – Master Card, Visa, Discover, Google & PayPal accepted
Lesson programs will be tracked from the date of your 1st lesson
If you choose, Greg can save your swing video to his YouTube channel
There is a 24 hour cancellation policy!
To schedule your lesson, please call or text (919) 538-1768 or email me: [email protected]
Improve your game & play your best golf!
Private Adult Instruction
Single Lessons
60 minute Introductory Lesson – $100.00
If you're interested in a single, longer & very informative lesson… the 1 hour lesson is for you. This lesson will include a brief warm up, questions about your game, your goals, video & discussing your swing. Lastly, we'll conclude with drills, exercises and maybe a training aid or two that will help you improve at a steady pace.
45 minute Private Lesson – $80.00
30 minute Private Lesson – $55.00
Lesson Plans

4 Lesson Series – 45 minutes – $285
8 Lesson Series – 45 minutes – $540
***THE BEST VALUE***
COACH FOR A YEAR – 36 Lessons (45 minutes) – $2,300
Includes: 9 hole playing lesson, club fitting session & putter fitting session (to be paid in full)
 Ask about trying the ES12 Flight Simulator by Ernest Sports

Private Junior Lessons

Individual (30 minutes) – $45
Individual (45 minutes) – $60
Individual (60 minutes) – $75
Series of 4 lessons (45 minutes) – $200
Series of 8 lessons (45 minutes) – $400
Junior rates are for students in high school or younger!
Junior Group Lessons
$25 per student
Minimum of 3 students & maximum of 5 students (45 minutes of instruction)
In a group environment, golfers will focus on the fundamentals of the game.  Keep in mind, it's easier to learn when you're having fun!
Posture
Grip
Alignment
Basics
Fun
Playing Lessons
On course playing lessons are very important for both the student and the instructor. It gives the instructor an opportunity to evaluate the student's swing from tee to green, short game & putting.  Before taking your lesson, write down any questions you would like to discuss concerning your game. This session will take approximately 2 hours, so please book your lesson well in advance.
$175
Includes approximately 2 hours of on course instruction, greens fee, golf car fee & other facility fees.  While on the golf course, we will use video as much as time allows.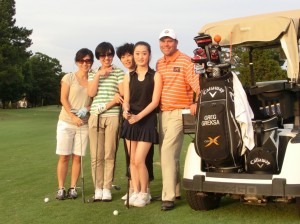 Group Lessons
Group lessons are very advantageous for the golfers just starting out. These lessons will cover all the fundamentals to enjoying the game of golf. The group lessons are also beneficial for small business groups looking to refresh their skills. Ratios will be 6 students for 1 PGA Instructor and offer a more affordable way to learn the game.
Group lessons could be 1 hour or 2 hours, depending on the group's time frame. Group lessons must be booked in advance. Please call for more information on booking your group.
$120 per hour
Golf Clinics
Clinics are group lessons offered during the year and focus on one specific element of the game. To get a schedule of upcoming clinics and to reserve a space, please view the schedule at www.raleighgolflessons.com
Price per clinic may vary.